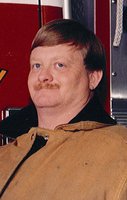 Henry Lee Nichols Sims
Henry Lee Nichols Sims, 62, Harrodsburg, husband of Janice Baker Sims, died Saturday at his home. Born July 6, 1954, in Harrodsburg, KY, he was the son of the late J. Elmer Sr., and Boone (Nichols) Sims.
Henry was a Fireman for Harrodsburg Fire Department, dispatcher for the Police Department, and was a lifetime member of the Mercer Co. Fire Department. He was a member of the Eller's Memorial Baptist Church, and enjoyed collecting fire related memorabilia.
Henry Lee is survived by: his wife: Janice (Baker) Sims, one daughter: Alice Boone (Kenny) Griffin and three grandchildren, Christopher, Austin and Allison. Henry was preceded in death by a brother, John Elmer Sims Jr., and a sister, Nikki Key.
Visitation will be 5-8 pm Tuesday, April 4 at the Ransdell Funeral Chapel. Funeral service will be held 2 pm Wednesday; April 5 at the Ransdell Funeral Chapel and will be conducted by Pastor Phil Yates. Members of Harrodsburg and Mercer County Fire Departments will serve as Pallbearers and will conduct a Fireman's Burial at the Spring Hill Cemetery, Harrodsburg.
Memorial donations are directed to the Harrodsburg and Mercer county Fire Departments.