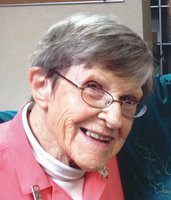 Catherine M. "Kay" Keeler
Catherine M. "Kay" Keeler, 97, Harrodsburg, widow of Delbert Keeler, died Saturday, April 15, 2017, at the Harrodsburg Health Care Center, Harrodsburg.
Born March 24, 1920, in Chicago, IL, she was the daughter of the late Charles and Elizabeth (Dunn) Heinz. She was a retired Executive Secretary for Industrial Pipe, a hospital volunteer, member of the American Legion Auxiliary, LAVFW, and was a member of the Catholic Church. She enjoyed reading, bird-watching, gardening, knitting, and watching game shows.
Survivors include: one daughter, Pattie (Tom) Zemba of Menominee, MI; one son, John (Sandra) Keeler of Harrodsburg, KY; three grandchildren, Jessica Olsen, Jamie Keeler, and Jennifer Zemba.
A Memorial Service is scheduled for 6 pm, Wednesday; May 10 at the St Andrew Catholic Church. The family ask that donations be sent to: the Friends of Jessamine County Animals, PO Box 184, Nicholasville, KY 40340 or to Heratige Hospice, 120 Enterprise Dr, Danville, KY 40422.
Expressions of sympathy may be sent to the family at www.ransdellfuneralchapel.com.