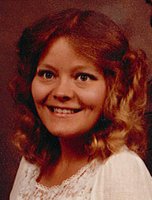 Donna G. Raider
Donna G. Raider, 57, Danville, KY, died Tuesday at her home in Danville. Born July 31,1960, in Cincinnati, OH, to the late Sherman and the late Dorothy (Franklin) Hogue.
She was a Homemaker, and a member of the Harrodsburg Christian Church.
Donna is survived by: three daughters: Paula Galan of Harrodsburg, Rachel Raider of Stanford, and Samantha Baker of Garrard County, one brother: Sherman Douglas (Doug) Hogue of Nashua, NH, seven grandchildren, and a Nephew; J.D. Hogue.
Visitation will be Noon-2pm Friday; November 10 and lead up to the service at 2 pm, conducted by Gay Haralu, at the Ransdell Funeral Chapel, Harrodsburg, KY. Burial will follow in the Spring Hill Cemetery.
Pallbearers will be: Luke Mulllins, Juan Galan, Mark Hogue, James Hogue, John Paul Baker Jr., Andres Lopez and Josue Lopez. Honorary Bearers are: Caroline Mullins, Benjamin Mulllins, Leeah Baker, Zayne Baker and Carlos Galan.
The family request memorial donations be sent to: Ransdell Funeral Chapel to assist with funeral expenses.