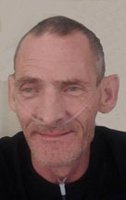 Darrell Raymond Pittman
Darrell Raymond Pittman, 57, Danville, KY, died Thursday at his home. Born August 12,1960, in Casey County, KY, to the late Albert Kenneth and the late Rosa Mae (Miller) Pittman. Darrell worked as a maintenance man for numerous businesses.
He is survived by: a daughter: April Sue Greenwell and a son: Michael Paul Pittman both of Harrodsburg, three sisters: Shirley Beatty of Danville, Charlotte Salazar of Harrodsburg and Effie Pittman of Stanford, and a brother: Albert Thomas Pittman of Liberty. Darrell was preceded in death by a brother, Kenneth Pittman Jr.
The family decided on cremation, there will be no formal services at the present time.