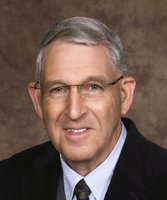 Leon Mayo
Leon Mayo, 70, of Harrodsburg, died Thursday, November 9th. He was born November 10, 1946, in Lebanon, Ky. He was a graduate of the University of Kentucky with a degree in Agriculture. Leon had a rewarding career as an insurance agent with Kentucky Farm Bureau Insurance Co. for 33 years, 8 years in Richmond, Ky., and 25 years as agency manager in Harrodsburg. He was an active member of St. Andrew Catholic Church. He was a member of the Kentucky National Guard, Harrodsburg unit. He served as past-president of Mercer Co. Chamber of Commerce, past-president of Harrodsburg Kiwanis Club, and was serving as chairman of the Christian Life Center Board. Leon was extremely hardworking and dedicated to his family and church, to Mercer Co. Farm Bureau members and to the Harrodsburg community.
He was preceded in death by his parents, Goebel and Gladys Mayo; two brothers, Frank Mayo and G.L. Mayo, and one sister, Kitty Goodin.
Survivors include his wife of 50 years, Mary Kay; one son, David (Amy) Mayo, Berea; daughters, Libby (Justin) Stocker of Harrodsburg, Katie (Rich) Watson of Decatur, Georgia; two brothers, Bob Mayo of Louisville, and Marshall Mayo of Bowling Green; 3 grandchildren, Darbi and Andrew Mayo of Berea, and Joseph Stocker of Harrodsburg.
Visitation is 5-8 p.m. Sunday, November 12, at St. Andrew Catholic Church, 1125 Danville Road, Harrodsburg.
A Mass of Christian Burial will be celebrated at11 a.m. Monday, November 13, 2017, at St. Andrew Catholic Church, with burial in St. Augustine church cemetery, Lebanon.
Pall Bearers will be: Justin Stocker, Rich Watson, Andrew Mayo, Chris Mayo, Bo Mayo and Patrick Mattingly.
Ransdell Funeral Chapel is in charge of arrangements. Memorial messages can be left for the family at www.ransdellfuneralchapel.com.