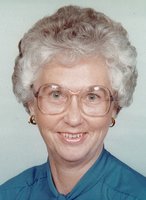 Anne Freeman
Anne Freeman, 90, Harrodsburg, widow of Masrhall "Jug" Freeman, died Sunday at the Saint Joseph Hospital in Lexington, KY. Born September 5, 1927, in Harrodsburg, KY, to the late Claude M. and Laura (Isham) Terhune.
She was a clerk for the family businesses, a member of the Harrodsburg Baptist Church where she taught Sunday school and played the piano for several years.
Anne is survived by: her sister in law, Scottye Terhune of Lexington; several nieces & nephews. Anne was preceded in death by her husband, Marshall Freeman, daughter, Marsha Ann Freeman, and seven siblings.
Visitation will be 11-1 Friday; November 24 and will lead to the 1:00 funeral service, conducted by Eddie Russell at Ransdell Funeral Chapel, Harrodsburg, KY. Burial will follow in the Spring Hill Cemetery, Harrodsburg.
The family request memorial donations be sent to: Harrodsburg Baptist Foundation, 312 South Main Street, Harrodsburg, KY 40330 or your favorite charity.