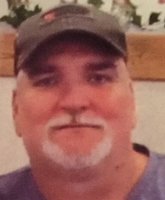 Billy Gene Bradshaw
Billy Gene Bradshaw, 50, Harrodsburg, died Thursday, November 23, 2017. Born January 12, 1967, in Versailles, KY, he was the son of Connie Maude Jacobs Bradshaw and the late Leo William Bradshaw.
Billy is survived by: One daughter: Abby Devore; Three sisters: Janet Boughter, Jo Ann Woodcock and Constance Adams; Three brothers: Jeff, Gary and Kenneth Bradshaw; Step Sons: Tyler Turner, Alex "DJ" Griffith and Denny Griffith. Step Daughter: Tiffany Griffith; Life Long Partner of 24 Yrs: Patty Turner and 11 grandchildren. Billy was preceded in death by his Father, Leo Bradshaw; Grandparents: John and Leona Bradshaw and Richard and Irene Jacobs and a Granddaughter: Ashely Griffith.
Visitation will be Sunday, Nov. 26, 2017 from 12-2pm at Ransdell Funeral Chapel, Harrodsburg.
Pallbearers will be: Jeff Bradshaw, Tyler Turner, DJ Griffith, Steve Shoeman, John Humphrey, Danny Adams, Scottie Boughter, Mike Turner and Denny Griffith.
Graveside service will be held Sunday, Nov. 26, 2017 at 3:00pm at Spring Hill Cemetery, Harrodsburg.
The family requests that in lieu of flowers, donations to help with funeral expenses be made to Ransdell Funeral Chapel.