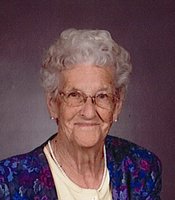 Lula Mae Bugg
Lula Bugg, 95, of Harrodsburg, widow of Fred N. Bugg, Sr., died Wednesday November 29, 2017 at her residence.
Born October 3, 1922 in Harrodsburg, she was the daughter of the late Leslie C. and Laura Adams McGinnis.
She was a retired seamstress for Cricketeer Mfg. and was a member of the Hopewell Baptist Church.
Lula is survived by: five daughters, Joyce Devine of Harrodsburg, Frieda Carpenter of TN, Gayle Yocum of Harrodsburg, Jean Bugg of Harrodsburg, and Laura D. Bugg-Southerland of Harrodsburg; two sons, Jeff Bugg of Harrodsburg, and Wayne Bugg of Bloomfield, KY, one sister, Betts Osweld; one brother, Jay McGinnis, 16 grandchildren, 21 great-grandchildren, six great-great-grandchildren.
She was preceded in death by her two sons: Fred Bugg, Jr., and Denzil Barnes.
Funeral services will be held Friday, December 1, at 2 p.m. at the Ransdell Funeral Chapel by Doug Welsey with burial to follow in Spring Hill Cemetery, Harrodsburg.
Visitation will be Friday from 11-2 p.m. at the funeral chapel.
Pallbearers will be Anthony Jenkins, Dallas Sheffield, Nathan Bugg, Jeff Bugg, Darryl Bugg, Chris Devine, Garney Bugg, Wayne Bugg, Lee Bugg, John Bugg, and Matthew Sims.
Memorials are suggested for the family to assist with final expenses.
Expressions of sympathy may be sent to the family at www.ransdellfuneralchapel.com.