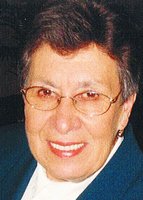 Patsy Combs
Patsy Combs, 79, Harrodsburg, KY, wife of Henry Combs, died Thursday at the UK Medical Center, Lexington. Born November 21, 1938, in Mercer County, she was the daughter of the late Vernice Edwin and the late Martha Louise (Sims) Harlow. Patsy worked a for several area factories, including; Cricketeer, Whirlpool and Mashusta. she was a member of the Harrodsburg Christian Church, and the Herrington Lake Yacht Club.
Patsy is survived by: her husband: Henry Combs and three sons: Edwin Burton "Eddie" Combs of Lexington, Henry E. "Chip" Combs Jr. and Carroll "Brent" Combs both of Harrodsburg, Grandsons, Zachary Clay Combs and Dylan Carroll Combs; step Grandson, Tanner James Syvarth.
Funeral service will be 2 pm Monday at Spring Hill Cemetery pavilion, by Gaye Haralu and Phil Williams, with burial to follow.
The family request memorial donations be sent to Gideon's International, P.O. Box 176, Harrodsburg, KY 40330, Sanders Brown Center on Aging Foundation, 343 Waller Avenue, Suite 205, Lexington, KY 40504 or Juvenile Diabetes Research Foundation, 133 Evergreen Road Suite 101, Louisville, KY 40243.