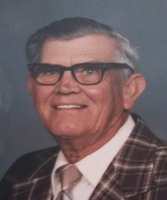 Elmer "Tuggle" Egbert
Elmer "Tuggle" Egbert, 97, Salvisa, KY, widower of Vallie Mae Collier Egbert, died Sunday at the Baptist Health, Lexington, KY. Born October 5, 1920, in Harrodsburg, he was the son of the late Reuben Slaughter and the late Deana (Beckham) Egbert. Tuggle was a lifelong farmer, a member at the Ebenezer Church of Christ and he served in the Army during World War II.
He is survived by: one son: Tommy (Judy) Egbert of Salvisa, son-in-law, Joe Daugherty of St. Louis, MO; four grandchildren: Terry Egbert, Carol Wilson, Dawn Daugherty and, Matt Daugherty; and three great grandchildren. Tuggle was preceded in death by his daughter; Linda Daugherty, three brothers and his sister.
Visitation will be from 5-8 pm Wednesday, December 27 at Ransdell Funeral Chapel, Harrodsburg, KY.
Pallbearers will be: Matt Daugherty, Terry Egbert, Joe Daugherty, David Craig, Brian Craig and Billy Fint.
Graveside services will be held Thursday at 11am at Ebenezer Cemetery by Terry Morrison. Burial will follow in the Ebenezer Cemetery, Salvisa.
The family request memorial donations be sent to Ebenezer Church Cemetery Fund, C/O J. Dunn, 1472 Warwick Road, Harrodsburg, KY 40330 or Mercer County Animal Shelter, 896 Moberly Road, Harrodsburg, KY 40330