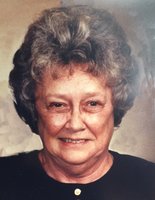 Sarah Catherine Black
Sarah Catherine Ross Black, 88, of Harrodsburg, KY, widow of Hansford Clifton (H.C.) Black, died Sun., December 24, 2017 at Harrodsburg Health and Rehabilitation Center.
Born December 5, 1929 in Harrodsburg, KY, she was the daughter of the late William and Christine Phillips Ross. After Sarah and H.C. wed she became a homemaker and raised their two Sons, Michael Clifton Black and William Gregory Black while her husband, H.C. worked as a professional Truck Driver. She loved cooking delicious meals for her family, and spending time around her table playing games such as Scrabble, Yahtzee, and Rummy with her loved ones. Sarah also loved spending time in the Sun, and enjoyed making others laugh with her wit and spontaneity. Sarah was a member of the Harrodsburg Baptist Church.
Survivors include her two sons, Michael (Mike) Black and William (Greg) Black (Cathy and Kansas Chumbley) both of Harrodsburg; two grandsons, Cory Rawlings and Gregory Black, both of Harrodsburg; one granddaughter, Ashley Kwiek (Jeremy) of Louisville, KY; two great grandchildren; Jack Kwiek and Anderson (Andy) Kwiek of Louisville, KY.
Graveside services will be held 2PM Thursday, Dec. 28, 2017, at the Spring Hill Cemetery Pavilion, Harrodsburg. Visitation will be 1PM Thursday, Ransdell Funeral Chapel. Expressions of sympathy may be sent to the family at www.ransdellfuneralchapel.com.