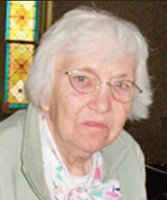 Ann Katherine Kabler
Ann Katherine Kabler, 89, Salvisa, KY, died Monday, December 25, 2017, at the Willows, Harrodsburg.
Born April 24, 1928, in Fayette Co., KY, she was the daughter of the late William Lee and Malhala (Ketron) Kabler. She was retired KY Safety Dept. employee and was a member of the New Providence Presbyterian Church, where she had served as an Elder, Sunday School Teacher, and Trustee of the Cemetery Board. Ann was also a member of the Ebenezer Homemaker's Club.
Survivors include several cousins and friends.
Funeral services will be 1PM Sat., Dec. 30, 2017 at the Ransdell Funeral Chapel by Bro. James Byrd. Burial will follow in New Providence Cemetery, Harrodsburg. Visitation will be 5 - 8 PM Friday at Ransdell Funeral Chapel.
Memorials are suggested to New Providence Cemetery Fund. Expressions of sympathy may be sent to the family at www.ransdellfuneralchapel.com.