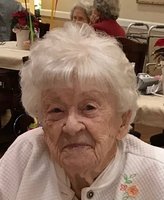 Marjorie P. Young
Marjorie P. Young, 100, Harrodsburg, died Sunday, December 31, 2017, at the McDowell Place, Danville. Born December 6, 1917, in Anderson County, she was the daughter of the late Walter Raymond and the late Verlia Robinson Peyton. Margie was the widow of Joe Young.
She was a seventy year member of the Harrodsburg Baptist Church and taught Sunday School for many years.
Survivors include: one daughter, Barbara Leonard Faith of Harrodsburg; two grandchildren, Tammy (Jeff) Simpson, and Scottie Alford; five great grandchildren, Brandi (Randy) Darland, Leslie (Sara) Simpson, Cala (Tanner) Brooks, Lindsey (Daryl) Mathews, Cody Simpson; nine great -great grandchildren. She is predeceased by two sisters, Louise Robinson and Helen Gash and three brothers, R. D., Bruce and Bob Peyton.
The family wishes to thank Heritage Hospice for their care and kindness.
Memorial service to be 11AM Sat., Jan. 20, 2018, at the Spring Hill Cemetery Pavilion.
Memorials are suggested to: Heritage Hospice, P.O. Box 1213, Danville, KY 40422.
Arrangements by Ransdell Funeral Chapel.
Expressions of sympathy may be sent to the family at www.ransdellfuneralchapel.com.