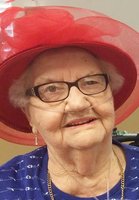 Marie Merchant
E. Marie Merchant, 93, Harrodsburg, widow of Jame Merchant Sr., died Tuesday, January 9, 2018, at the Haggin Memorial Hospital, Harrodsburg.
Born September 4, 1924, in Garrard Co., she was the daughter of the late Clarence and Jean (Thompson) Naylor. Marie was a retired motel manager and was a member of the Fellowship Baptist Church, where she had taught Sunday School.
Survivors include: two sons, James "Butch" (Joann) Merchant, Jr. of Harrodsburg, and Robert "Bobby" G.(Anna) Merchant of Elizabethtown, KY; three sisters, Florence McCane and Lula Montgomery of Lancaster, and Wilma Jean Wagner of Spokane, WA; eight grandchildren; several great and great-great grandchildren; several nieces & nephews. She was preceded in death by two daughters, Patricia Releford and Barbara Taylor, and five siblings, George and J.K. Naylor, Gladys Davis, Irene Durham, and Mary Irwin.
Funeral services will be 2 PM Friday, Jan. 12, 2018, at the Ransdell Funeral Chapel by Bro. James Harley. Burial will follow in Spring Hill Cemetery, Harrodsburg. Visitation will be 11 AM - 2 PM Friday at Ransdell's.
Pallbearers are: Bryant Merchant, Robby Merchant, Dud Releford, Doug Taylor, John Logue, Robbie Wilham, Chico Gonzales, Kevin McMullin and Marie's granddaughters.
Memorials are suggested to: Christian Life Center, 108 S Main St, Harrodsburg, KY 40330.
Expressions of sympathy may be sent to the family at www.ransdellfuneralchapel.com.