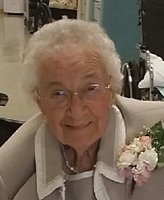 Martha Gibson
Martha Gibson, 91, Harrodsburg, KY, widow of Darel Gibson, died Saturday, February 24, 2018. Born December 27, 1926, in Garrard Co., she was the daughter of the late Homer and Carolina Gilliam Hall. She was former owner & operator of Speed Queen Laundry and was a member of Shakertown Baptist Church.
Survivors include three sons: George (Connie) Gibson, Bobby (Charlene) Gibson, and Steve (Mary Ellen) Gibson all of Harrodsburg; six grandchildren, fourteen great-grandchildren, and two great-great grandchildren. She is predeceased by a twin brother, George Hall.
Funeral services 11 AM, Tuesday, Feb. 27, 2018 at the Ransdell Funeral Chapel, with Rev. Joe Smith officiating. Burial will follow in Spring Hill Cemetery. Visitation will be 5 - 8 PM Monday at Ransdell Funeral Chapel.
Pallbearers: Derek Gibson, Scottie Gibson, Brent Gibson, Charles West, Everett Spurlock, Travis Gray. Honorary bearers: Marci Gray, Tammy Spurlock, Christin West, Angela Gibson, Kate Gibson and Carla Gibson.
Memorials are suggested to: Shakertown Baptist Church, 2894 Lexington Road, Harrodsburg, KY 40330 or Charity of One's Choice.
Expressions of sympathy may be sent to the family at www.ransdellfuneralchapel.com.