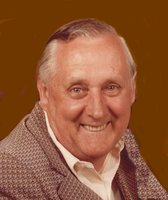 Roy Melvin Baugh
Roy Melvin Baugh, 91, Harrodsburg, KY, died Tuesday at the Harrodsburg Health & Rehabilitation, Harrodsburg. Born February 9, 1927, in Boyle County to the late Luther and the late Georgia (Adams) Baugh. He retired from Hallmack and was an Army Veteran.
Roy is survived by: two daughters: Crystal Curtsinger of Harrodsburg, and Georgia Hartman of Junction City, and one son: Roy (Kathy) Baugh of Harrodsburg, sisters: Aileen Jenkins of Harrodsburg, Charlotte Baker of Burgin and Linda Jenkins of Harrodsburg and one brother: Ronald Baugh of Harrodsburg, KY, ten grandchildren, twelve great grandchildren. Roy was preceded in death by two sons, Dudley & Danny Klaess, two brothers, Frankie & Paul Baugh, and two sisters, Martha Adams and Carol Ann Jenkins.
Visitation will begin 11:00 am Thursday; March 1 and lead to the Funeral Service at 2 pm conducted by Danny Broce at the Ransdell Funeral Chapel. Burial will follow in the Spring Hill Cemetery, Harrodsburg.
Pallbearers are Kenny Hensley, Dale Sallee, David Feeback, Donnie Judge, James Watts, and Steve Cheatham.