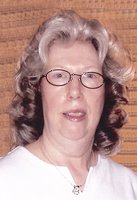 Wilma T Lucas
Wilma T. Lucas, 75, Stanford, KY, mother of Keith Lucas, died Tuesday at the Ephraim McDowell Regional Medical Center in Danville, KY. Born June 27,1942, she was the daughter of the late Jessie D. and Nellie (Broughton) Tharpe .
Wilma is survived by: her son: Keith Lucas, three sisters: Lucille Procknow of Chicago, IL, Silvia A Tharpe of Stanford, KY and Mildred Underwood of Danville, KY, and two brothers: Duke Clayton Tharpe of Lawrenceburg, KY and Jessie Tharpe Jr. of Danville, KY,, Wilma was preceded in death by a sister, Violet Jepsen and a brother, Everett Tharpe.
Funeral service will be held Thursday at 2:00 pm at Ransdell Funeral Chapel with visitation starting at 12 noon. Burial will follow in the Spring Hill Cemetery, Harrodsburg.