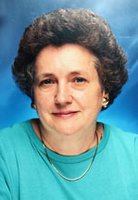 Roxie Gene Rogers
Roxie Gene Rogers, 78, Harrodsburg, wife of Don Billy Rogers, died Saturday at Baptist Health, Lexington. Born July 15, 1939, in Harrodsburg, KY, she was the daughter of the late Richard C. and the late Irene (Graham) Green. Roxie married Don Billy Rogers in 1958. She was a member of the Danville 1st Baptist Church, N.E.A, K.E.A and Mercer Retired Teachers. She graduated from the University of Kentucky with a degree in elementary education and obtained her Masters Degree in Education from Eastern Kentucky University. Roxie taught in the Harrodsburg Independent School system before retiring in 1999.
Roxie is survived by her husband: Don Billy Rogers, one daughter: Pamela Rogers of Cincinnati, OH and one son: Steven Brian (Lisa) Rogers of Lexington, four grandchildren: Ben Rogers; Laura Vanderhaar; Emily Rogers and Christopher Kuhn. Roxie was preceded in death by her siblings, Juanita Griggs and James R. Green.
Visitation will be 5-8 pm Tuesday; April 3, and prior to the service Wednesday at Ransdell Funeral Chapel, Harrodsburg, KY.
Pallbearers will be: Christopher Kuhn, Mark Griggs, David Vanderhaar, Benny Goode, Earl Campbell and Emily Rogers. Honorary Bearers will be: Ben Rogers and Laura Vanderhaar.
Funeral service will be held 2 pm Wednesday at Ransdell Funeral Chapel officiated by Terry Morrison. Burial will follow in the Spring Hill Cemetery, Harrodsburg.
The family request memorial donations be sent to: 1st Baptist Church, 1570 N Danville Bypass, Danville, KY 40422.