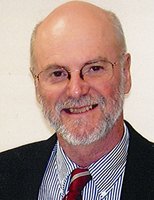 Charlie Ison
Louis Charles Ison, 74, husband of Robin Singer Ison, died Thursday, April 5, 2018,at his home in Harrodsburg, surrounded by his family.
Born February 5, 1944, he was the son of the late Louis Francis and Alma Ray (Sanders) Ison. He graduated from Mercer County High School and earned a BS and MA from Georgetown College. He taught Chemistry and Physics at West Jessamine High School for 32 years. He was a lifelong member of Harrodsburg Baptist Church, serving as a deacon and Sunday School teacher. Active in his community, he served as Farm Bureau president and secretary and served on the boards of Habitat for Humanity, Mercer County Conservation, Farm Services Agency, and Board of Adjustments.
Survivors other than his wife include: his children, Nan Ison, Louisville, Laura (Franklin) Russell, Harrodsburg, Zachary (Tiffany) Ison, Harrodsburg, and Stewart (Michelle) Ison, Lexington; his sister, Nancy Ison Reahm, Grand Rapids, MI; nephew Jonathan (Peggy) Jenkins, Encinitas, CA.; seven grandchildren; one great nephew.
Visitation will be 5-8PM, Friday, April 13, at Ransdell Funeral Chapel, Harrodsburg, with a Celebration of Life 11AM, Saturday, April 14, at Harrodsburg Baptist Church by Peter Doddema and Charles Langford.
Teachers from West Jessamine School system are to serve as Honorary Pall Bearers.
Memorial contributions are suggested to Baptist Seminary of Kentucky, P.O. Box 358 Georgetown 40324, Georgetown College, 400 E College St, Georgetown, KY 40324, or Mercer County Habitat for Humanity, 232 S College St, Harrodsburg, KY 40330.
Expressions of sympathy may be sent to the family at www.ransdellfuneralchapel.com