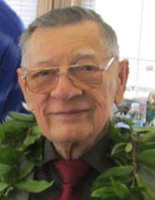 Michael Janick
Michael Janick born Michael Smiljanich, 94, widower of Sarah Josephine C Janick, went to be with the Lord April 7, 2018
Born June 15, 1923 in Akron, OH, he was the son of the late Mara Peic' and Simon (Sam) Smiljanich from Croatia. He was preceded in death by his brothers Frank and John Smiljanich and Sisters Agnes Redl, Helan Rukavina, Anne Adamov and Katherine Cox.

He is survived by two nephews, Bob Adamov, of Wooster, OH, Sam Adamov of Sedona AZ, and nieces, Susan Deyo of Cincinnati, OH and Billie Trammell of Evansville, IN.
Mike was a Veteran of World War II serving in the Army Air Corp as an instructor in antenna theory. Mike attended the University of Akron and University of Cincinnati. He was Manager of Quality Engineering of Cincinnati Electronics in Cincinnati Ohio for 42 years where he retired.
Mike Assisted Deaconess Hospital Cincinnati in developing the Technique of Non destructive examination of range safety radio for the atlas missile for the Air Force. He also worked on numerous projects for the military and NASA space program.
Mike and his wife Josephine, settled in Harrodsburg, KY after retirement. He will most be remembered by his family for his love of his wife and family.

The family will hold a Grave Side Memorial Service at a later date. Ransdell Funeral Chapel in charge of arrangements.