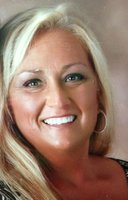 Stephanie Grant Warner
Stephanie Grant Warner, 54, Lancaster, KY, died Monday; April 23. Born August 28,1963, in Harrodsburg, she was the daughter of the late T. J. and the late Sara (Dismuke) Warner.Stephanie worked as a teacher's aide for Harrodsburg School System.
She is survived by: one son: Doug Cornish of Harrodsburg, and was preceded in death by a son: Joseph Terry Paul Cornish.
Stephanie chose cremation and there are no formal services scheduled at this time.