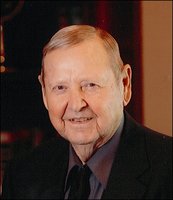 Seymour Claunch
Seymour Claunch, 85, Boyle County, died Friday, January 4, 2019, at the Ephraim McDowell Regional Medical Center, Danville. Born May 17, 1933, in Mercer County, he was the son of the late Willie B. and Emma Claunch. He is survived by his wife of sixty-eight years Helen Jeane Lester Claunch and a daughter, Sheila Renau (Larry) Cox, and five grandchildren and seven great-grandchildren. He is predeceased by a daughter, Terri Gale Short.
Seymour spent the first part of his life in Rose Hill and attended the Rose Hill School, in Mercer County. He owned and operated their farm there along with Helen Jeane for thirty-seven years. He retired from Corning Glass Co, in Harrodsburg and for the last thirty-one years owned and operated a farm in Boyle County before his illness. He is a member of the Benton Baptist Church, were he served as a Trustee and held other positions over the years. Seymour enjoyed spending time with his friends in Danville, called the Gathering Group. His favorite hobbies were collection antiques and restoring old tractors. Seymour moved to Morning Pointe in 2018, where he was introduced to a new way of life and created many new friends.
His family has requested a private service with Bro. Ernest Martin, officiating.
Expressions of sympathy may take the form of donations to Heritage Hospice, 120 Enterprise Dr., Danville, KY 40422.
The family wishes to express a special thanks to Morning Point for all the love, care and support the entire staff has shown.
»(Do not delete this line. It does not print. Text that is to appear on web must be entered before this line)