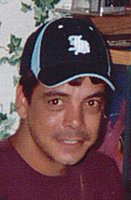 Bobby Ray Harris
Bobby Ray Harris, 46, Harrodsburg, KY, husband wife of Vicki Lynn Spencer, died Saturday at the University of Louisville Hospital. Born May 29,1972, in Lexington, KY, he was the son of Otis Owens and Barbara Marie Downs Cross. Bobby Ray was a local Handyman.
In addition to his parents, he is survived by: his wife: Vicki Lynn (Spencer) Harris, one daughter: Brittany Renae Harris of Louisville, and one son: Jonathan Spencer of Versailles, a sister: Crystal Robinson of Lawrenceburg, KY and two brothers: Ronnie Stinnett of Harrodsburg, KY and Brian Cross of MO.
Memorial service will be held 1:00 Friday; January 18 at the Ransdell Funeral Chapel by Donnie Baker.
The family request memorial donations be sent to the family to help with expenses.