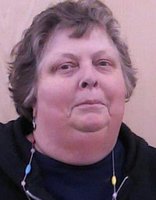 Ruth Thompson
Ruth Thompson, 66, Harrodsburg, KY, died Wednesday at the University of Kentucky Medical Center, Lexington. Born December 13, 1952, in Harrodsburg, KY, she was the daughter of the late Emmitt and the late Edna (Young) Thompson.
Ruth worked as a clerk for many years at Harrod Fashion and most recently at Wal-Mart. She was a member of the Harrodsburg Christian Church.
Ruth is survived by: one brother, Nelson Thompson; a niece, Emma Thompson of Lexington, KY.
A Gathering of friends and family will be from 4:30-8:00 PM Friday, January 25, 2019 at the Ransdell Funeral Chapel, Harrodsburg, KY.