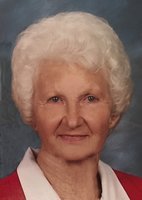 Verna Lou Stine
Verna Lou Stine, 86, Harrodsburg, KY, widow of Samuel Stine, died Sunday at her home. Born March 9,1932, in Garrard County, KY, she was the daughter of the late Andy and the late Gracie (Harrison) Adams. She was a retired seamstress from Cricketeer and Butte Knit Manufacturers. Verna was a member of the Burgin Baptist Church.
She is survived by: a daughter: Pamela J. (Glenn) Bugg, and one son: William A. "Bill" (Janet) Price, one sister: Geraldean Bradshaw, all of Harrodsburg, four grandchildren; two step grandchildren, five great grandchildren, one great great grandchild and another on the way; Caregivers, Bea, Donna, Teresa, Connie, Tonya, Loretta and Rita, best friend: Maggie Mae. Verna was preceded in death by her siblings: Mildred Stagner and Arnold Gene Adams.
Visitation will be Thursday; March 7 from 11-3 PM at Ransdell Funeral Chapel, Harrodsburg, KY.
Pallbearers will be: Chris Price, Brandon Price, Greg Price, Will Price, Dylan Price and Nikki Bugg Mattingly.
Funeral service will be conducted by Bro. Carl McCray, 3 pm Thursday at Ransdell Funeral Chapel. Burial will follow in the Burgin Memorial Garden.
The family request memorial donations be sent to Heritage Hospice, P.O. Box 1213, Danville, KY 40422
or the Burgin Baptist Church, 433 East Main Street, Burgin, KY 40310