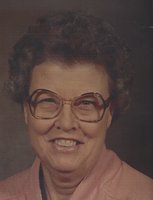 Naomi Nichols
Naomi Nichols, 94, Salvisa, KY, died Thursday, March 7, 2019 at the Harrodsburg Health Care Center, Harrodsburg. Born December 28, 1924, in Salvisa, she was the daughter of the late Gobel and Edna Taylor Nichols.
She was a retired Farmer and State Employee for Finance Dept of Ky. She was a member of the Salvisa United Methodist Church where she was a Sunday School teacher for many years.
Pallbearers will be: David Leo, Buddy McCoy, Glen Brown, Keith Hyatt, Scott Pitcock, and Carl Lamb. Honorary Louis Sea and Ralph Morris.
Funeral service will be held Sunday, March 10, 2019 at 3:00 pm at Ransdell Funeral Chapel by Gaye Haralu. Burial will follow in the Spring Hill Cemetery, Harrodsburg. Visitation will be from 1-3pm Sunday.
The family request memorial donations be sent to Heritage Hospice, P.O. Box 1213, Danville, KY 40422.