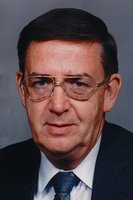 James Carl Jenkins
James Carl Jenkins, the 87 year old widower of Helen Devine Jenkins, died Saturday, October 19, 2019, at the Thomson Hood Veteran's Center in Wilmore. Born February 14, 1932, in Mercer County, he was the son of the late Guster and Cordie (Carr) Jenkins Sr,.
He was a member of the Southland Christian Church and was a former Deacon and Elder at the Magnolia Street Christian Church and the Mayo Christian Church in Harrodsburg. James is retired die setter from Square D and an Army veteran.
Survivors include: one daughter: Shree Jenkins, one sister: Dorothy (Oscar) Drury, both of Lexington; Sister's-in-Law, Joyce & Geneva Jenkins; and several nieces and nephews. James is predeceased by a sister; Eva (Joseph) Stine and two brothers; Stanley and Guster Jenkins, Jr.
Funeral services will be at 2:00 PM Tuesday; Oct. 22, at Ransdell Funeral Chapel, and burial will follow in Spring Hill Cemetery, Harrodsburg, KY. Visitation will start at 12 noon Tuesday and lead to the service at 2pm.
Memorials are suggested to: Bluegrass Care Navigators, 2312 Alexandria Dr., Lexington, KY 40504
Expressions of sympathy may be sent to the family at www.ransdellfuneralchapel.com.