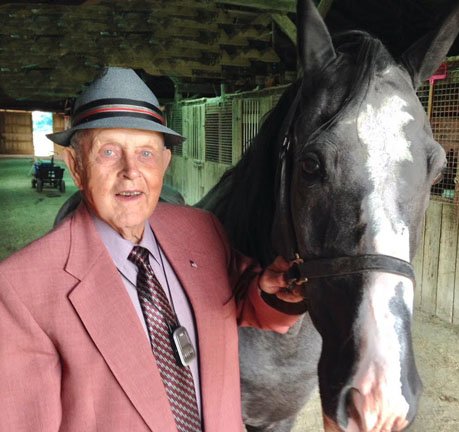 Obituary of Joseph Gill
Joseph Marshall Gill, 89, Harrodsburg, KY, widower of Nellie Lou (Steele) Gill, died Sunday at his home in Harrodsburg, KY. Born June 16, 1928, in Frankfort, KY, he was the son of the late Charles C. and Mary C. (Brammell) Gill. He served in the U.S. Army during Korean war. Joe was a teacher for Mercer County School System for 35 years and helped educate over 6000 students in his career, he coached basketball, football and baseball for fifteen years. Joe was a member and former deacon at the Harrodsburg United Presbyterian Church. He loved his students, but animals, and horses especially ranked very high on his list. He was also past president of the Optimist club and the Pioneer Saddle Club, of which he was a founding member, and was a member of the American Legion, Kentucky Walking Horse Association and was inducted into their Hall of Fame in 2014. He was also a member of the National Walking Horse Association, K.E.A. (Kentucky Education Association), Kentucky Retired Teachers Association, Kentucky High School Coaches Association and the Mercer County Retired Teachers Association.
Joe is survived by: a daughter, Jennifer G.(Phillip) Dobbs of Lexington; a grandson, Justin Lee Gill Dobbs of Lexington. He was preceded in death by his sister, Emma Margaret Rogers.
Visitation will be 11:30am-1:30pm and 3:30 - 5:30 Friday, March 9, 2018, and lead up to the funeral service at 5:30 pm at the Harrodsburg United Presbyterian Church by Bert Eyster. Private burial will take place in the Camp Nelson National Cemetery, Nicholasville.
The family request memorial donations be sent to Harrodsburg United Presbyterian Church, 326 South Main Street, Harrodsburg, KY 40330. Ransdell Funeral Chapel in charge of arrangements.